The most interesting thing in the history of the French manicure that was created he was not in France and in the United States. Gave the author of this work that there were complaints of Directors that too much time is spent on manicures for Actresses. Then it was invented by the French. This type of manicure is universal. It is suitable for any way to any dress code.

What is the French manicure? This white strip covering the free edge of the nail.
As you can see it is not perfectly straight, as the smile line of the natural nail. Its sophistication is as in bending, even minimal. Straight white stripe makes the nail rough, but also very visually it shortens. This applies particularly to those who have so little natural nail plate.

Here is an example: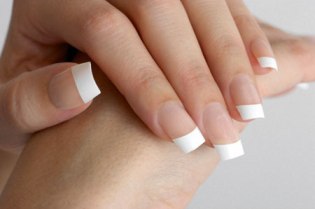 Nails long, but meanwhile they are not delicate, rough, nail bed seems to be direct and short.
But the French on the same length:
Nails seem bigger, longer nail bed. Because mustache smiles displayed highly enough.
The main rule is: the longer your nails are, the higher you go the moustache of your smile.
On short nails to do high moustache, but it all depends on the shape of the nail length and nail bed. Not all short nails French manicure looks the same.
This type of manicure you can do and varnish and gel lacquer, gel, and acrylic.
Try not to use cliches, smile with them, we have as a rule a straight line.
Over time the French were modified. New types.
1. The classic French manicure is white tip. The universal. Fits everything always and everywhere.
2. Color coat
3. French sequins - can in principle be attributed to a color
4. Aquarium French - that is, aquarium design is only the tip of the nail
5. Reverse French manicure is performed on short nails. It is an alternative to the classic French manicure as usual the French is not always possible to perform on short nails.
6. Half-Moon manicure
7. American BabyBoomer French